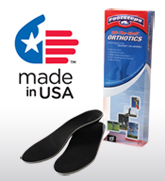 The Footsteps™ Classic off-the-shelf inserts were developed to bridge the technological gap between currently available pre-fabricated insoles and custom foot orthotics. The Semi-Rigid EVA orthotic base was anatomically designed to stabilize and support the foot while allowing for full-foot function and adaptationthroughout all phases of normal gait. Current OTS products provide only arch "cushioning" or rigid arch support with no stabilization. By incorporating a poron topcover onto the EVA base, Footsteps™ insoles also provide unmatched shock absorption and impact protection.
The Footsteps™ Classic Dress is designed to allow the wearer to enjoy all the comfort and support of our Athletic Classic in most dress shoes which typically have less room in the toebox.
AVAILABLE SIZES
| | |
| --- | --- |
| MENS | WOMENS |
| MA 6-7 | WA 3-4 |
| MA 8-9 | WA 5-6 |
| MA 10-11 | WA 7-8 |
| MA 12-13 | WA 9-10 |
| MA 14-15 | WA 11-12 |
The Footsteps™ Classic Accommodative was designed for "at risk" patients. The Classic accommodative offers the same support and shock attenuation as our Clasiic athletic but is finished with a softer interface Plastizote topcover to eliminate any friction issues a diabetic patient may experience. 
AVAILABLE SIZES
| | |
| --- | --- |
| MENS | WOMENS |
| MA 6-7 | WA 3-4 |
| MA 8-9 | WA 5-6 |
| MA 10-11 | WA 7-8 |
| MA 12-13 | WA 9-10 |
| MA 14-15 | WA 11-12 |